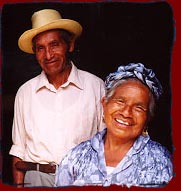 I met Cele's family during my last trip. Cele's parents were very sweet. Her mother has the most beautifully expressive face and the greatest laugh.

I also met Cele's brother, Serfin. A jack of all trades, he's an artist, a carpenter, and a weaver. He often weaves his own drawings. Now he wants to start making looms.
Loom making is still a male bastion.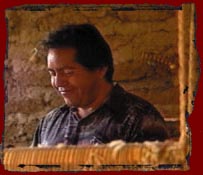 Cele's cousin Salomon took us up in the hills to show us which plants and trees they use to make dyes. Salomon also translated Zapoteco for me when I asked his parents about weaving. His parents also began to work with the process when they were very young. When I asked his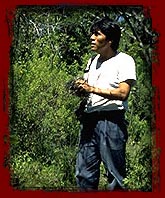 father what he thought of weaving as a child, he said he liked it because he could do it in the shade; apparently, the alternative was field work. His mother cleaned the wool and prepared the yarn. It is only within the last fifteen years that women have been weaving. Before then they prepared the yarn. Weaving was considered "hard" work. Today in Teotitlan, more women weave than men.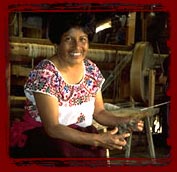 And Cele. I really do admire her. She has tremendous strength and determination. She is devoted to keeping this tradition alive. It was through her that I came to realize what these wonderful rugs represent: not only beautiful art, but a way of life.