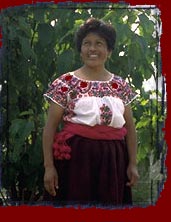 My name is Celerina Martinez. I am from Teotitlan del Valle. I am an artisan.
I work with rugs, and my family has always lived here in Teotitlan.
I began to weave when I was twelve years old, but before that I helped prepare the material. Normally we begin as early as five years old. At six, one begins to help the family, and that way one learns. It is work where the whole family participates, from the little ones up to people who are very old. Like I was taught by my parents, that is how we are teaching the little ones that follow. This will always be. Because today the children begin like I began. We began when we were small, and we will go on forever.


It is work where truly the state of one's spirit is reflected. At times we find ourselves in adverse situations, and at times this work gives us the strength to go forward. Even though it's hard work, I really enjoy it, and I live in the colors. I really enjoy the designs, the colors, and also the way of working.

I work on a loom that is a meter and fifty centimeters wide, and there are moments when it's as though I were dancing. I like it so much because at times we work with animal shapes, and that is very enjoyable; we work with birds, fish, or other animals. We work with landscapes, too. At times the state of one's spirits is reflected; at times when we are sad, it's reflected in the work. I love to do this work because it gives me great joy when the people who come to buy our rugs like them. I feel very satisfied because I can do work that other people really like and really will use.