We have created this web site to promote Zapotec rugs
and to educate people about the underlying Zapotec
culture and long tradition of weaving.
The rugs we sell should be appreciated not only for their
obvious beauty, but for the rich tradition they represent.
I'd like to give you a glimpse of the world that lies
behind these beautiful works of functional art.
Read more about Rebecca and Celerina.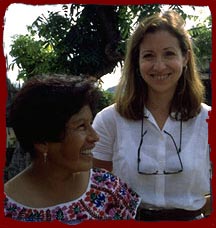 I met Celerina about nine years ago in San Francisco at a Women's Building crafts fair. She was sponsored to come up from Mexico to participate in the fair, and I was assigned to her booth. I really enjoyed working with her. I was immediately impressed by her enthusiasm and the sheer joy she expressed whenever anyone appreciated her rugs. Her face would truly light up.
The more I got to know Cele the more I grew to understand just how much these rugs mean to her. I soon became aware of the tremendous pride she feels to be part of a culture that has sustained this tradition relatively unchanged for hundreds of years.

Visiting Teotitlan, Mexico
Visiting Cele in Teotitlan I was able to see what weaving means to her and to others there. It just amazed me that this tradition could continue unchanged. I saw how family members worked together preparing the wool. It was so sweet to see children running around, playing under the loom while their grandparents and parents were busy weaving. I learned how the tradition is still being passed on to the children-- and they want to learn. The children want to weave. Like Cele, they know that this is what they will do. And they don't question it. They welcome the responsibility of carrying on this tradition.
> Read more and view images from my trip