The weaving tradition in Teotitlan del Valle goes back to pre-Hispanic times. Teotitlan even had to pay tribute to the Aztecs in the form of cloth. In Zapoteco Teotitlan del Valle is called Xiguie'e, which means Magical Place. Zapotec culture dominates life in Teotitlan. Zapoteco is the primary language and Zapotec customs are conserved.
Today, in the mercado de artesanias in the center of the village, the full variety of tapetes and sarapes are on display.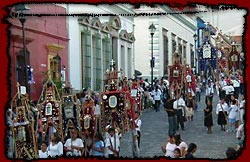 Oaxaca Easter Parade
View Image Larger
Read more about the Zapotec History and Culture including:


Zapotec Symbols


Zapotec Religion


Zapotec Language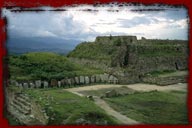 Much of Zapotec history
centers on the large
archaeological site of
Monte Alban.
The ruins at Mitla are a
source for many of the
designs of the Zapotec
weavings.
The ruins at Dainzu, one of the earliest sites of Zapotec
occupation in the Oaxaca Valley.




The central valley of Oaxaca is a mountain highland
encompassing 3,375 square kilometers (1,303 square miles), at an elevation of approximately 1,550 meters (5,115 feet). Explore the Geography of the Oaxaca Valley.